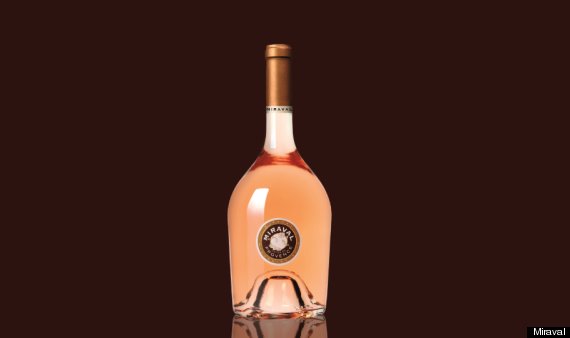 Miraval Cotes de Provence
Rose
Chateau Miraval, France
x-fact ~ a wine by brad pitt & angelina jolie. let's proceed, shall we?
$24.
okay. first i HAVE to say that this was called 'Pink Floyd' until it wasn't. pink floyd recorded 'The Wall' at the chateau's studio called, Studio Miraval. jolie-pitt now own the chateau. hence the hoopla. and the fabulous bottle. and me falling for it.
full confession, i have had this bottle more than a month. i thought i would want to open it up right away. i mean look at it!!! alas, i don't know if it was price (eeek! it was a gift from my husband to push me back into the wine blog) or expectation. like a really pretty dress you're afraid to wear, i thought maybe i'd save it for a fancy dinner or guests or another 'special' occasion. as it turns out, i did. a late afternoon bleeding into evening on a wednesday that held a rare 3 full hours alone to do just as i please. a 'special' occasion, indeed. yes, please.
this is a gorgeous wine. it's like liquid glass. all glossy and polished. it's the exact shade of pink for a sophisticated rose. a hint of girlish all dolled up in a know better package. this is not your first girlfriend's favorite pink.
so. i took a sip. and. i waited. and, i took another. it was, good. cold. crisp. and, no real...finish? like it was here and gone. hmmm.
i was 'me at the senior prom' underwhelmed.
so i took another sip. and i waited.
see and here's the thing, i have to admit i wanted it to WOW me right away. i wanted it to be lush and tickle-y! i wanted it to blow my 'date in a bottle' grenache out of the glass! damn 'the date in a bottle'!!! i wanted it to be 'up against the wall sex in a bottle'! all lips and hips and teeth. and, it wasn't.
(i'm just being dramatic, grenache! don't pay any attention! it's not what it looks like...)
so i sat a minute. took another sip. and another. and then, what's this? a little sweet? just around the edges, but definitely there and definitely pleasant. not like sweet sweet, but more like a whisper of sweet. to balance the crispness (or enhance? who the hell knows? i'm just here to drink and report back). because it did. it was like, rounder. a little warmer on the approach. and after another sip that sweet was like a tiny rose petal left behind. a marker. on the back of my tongue. melting slowly, like a little kiss. like a promise.
and then i got it.
so i drank more.
it felt a little puckery, but in a good way (if this were a real wine blog i think the word we're looking for is 'astringent' & perhaps 'dry') and DEFINITELY not cloying. which is a quality many a rose possess. instead of being overblown and lush-y (time enough for that elsewhere) it is definitely understated and simply delicious. it lingers to finish and does not falter from the task at hand. this is a wine that will remain in charge as you drink.
this is the daniel craig of wines.
which would be the perfect pairing...
wait. where was i?
oh yes, BARRING THAT option, i think because it's so dry with some background sweet to it there are several other lovely options; a dinner starring simply dressed and grilled fish, crisp salads with texture and bursts of flavor that do more than nicely as a meal unto themselves, perhaps a little blue cheese drizzled with honey served with flat bread and a dish of grapes, or a picnic basket filled with fried chicken, creamy potato salad, ice cold watermelon slices, and place settings just for two. under a shade tree. with a little room to breathe, this bottle, and the whole of the afternoon ahead.
it's pretty and pricy and provocative enough a bottle to bring to impress, to set on the table for a special occasion, or to gift. for whatever reason might a gift of a sexy, deliciously pink, undeniably delightful bottle of wine be needed. my birthday is in july. for your FYI.
realizing halfway through this that i was starving and without a simply dressed and grilled fish or appropriately fancy salad sitting in front of me, i rummaged in the fridge and found a small wedge of needed to be eaten smoked mozzarella and a few of my favorite olives left in a container towards the back. i found a jar of some fancy orange & fig preserves in the pantry that i think were being saved for something special. a few slices of apple and a wasa flatbread broken in half later and i completed the plate. i took it to the porch with my glass.
i sat down and breathed in and was immediately hit with the smell of my neighbor torturing some poor fish (salmon?) on the grill. i wanted to run back inside. grab the glass!!!
but, i realized the night was so fine (despite the smell) and i had a lovely little plate. and a glass full of something delicious. and ultimately that in every life some shit does come. best to enjoy the bits of enjoyment you have in front of you. however cobbled. despite the intrusions the world at large can and will bring. sometimes all we have is the moment in front of us. however it presents itself. however imperfect.
hey, don't abandon the bottle because the expectations aren't met so easily. do try another sip. perhaps another. don't not celebrate or do something fun or special because you'll 'use up the good stuff'. or because you need to 'keep things on hand for a special occasion'. or because it's *just* wednesday or because it's *just* you here by yourself. every single day you are here, anywhere, by yourself or not, is a special occasion. every day. do remember that. always.
i stayed on the porch. i took a few nibbles. and then i buried my nose deep into my glass and inhaled even deeper.
and then, i exhaled.
sante!
x.